Customers Rave About AllClean House Washing's Exceptional Services!


Pressure Washing - St. Louis, MO
We were very pleased with AllClean House Washing. Micah could not be a nicer and more thorough young man to deal with. He was very professional and concerned to meet our expectations. We would highly recommend the company for an awesome job. We even had a staining on our chimney, which he came back to address with stronger chemicals. We were extremely happy with his expertise. You cannot go wrong, Micah was a delight to deal with and a job well done. We would use their pressure washing service again in a heartbeat!!!!! Call them!

House Washing - Fenton, MO
AllClean came out and washed my house, deck, and patio. I was really afraid that it wouldn't do much good after years of dirt and build up. However, I felt that his quote was very reasonable. Now that he has completed the job, everything looks AMAZING!!! I'm beyond ESTATIC with this company. First of all, they showed up on time, and communication was great. They were very professional and worked very efficiently to get the job done quickly, yet they were careful and precise. This isn't someone who just bought a cheap powerwasher.. This company has  commercial equipment, and uses the soft washing type method to clean. Micah made sure that I was satisfied with the job before they left. My house, deck, and patio look so clean now, I will absolutely recommend their pressure washing service, and I will be using them again in the future.

Pressure Washing - St. Louis, MO
Today was the 2nd time we've used All Clean House Washing – we could not be more satisfied with the quality, value & customer service. Harold and his partner were extremely friendly; I work from home and constantly on virtual meetings… When they arrived I was tied up on a meeting and could not get outside to meet/greet them….. they went straight to work, I was able to focus on my work meeting and they were very thorough with explaining the service and work when I was able to meet them 40 minutes after they started. All Clean is super easy to do business with and my siding looks incredible now! I would highly recommend this company to anyone looking for house cleaning/pressure washing.

Power Washing - St. Louis, MO
If you are ever in need of power washing I would highly recommend Allclean. Micah and Harold were friendly and professional and went above and beyond to remove items (chairs, plants, wreath, etc.) from my front porch and then put them back perfectly after they were done. They did an exceptional job, leaving my house looking amazing. I will definitely use them again.

Power Washing - Arnold, MO
Great customer service by Harold, did great job on power washing patio and sidewalk.

Power Washing - Imperial, MO
AllClean House Washing did a wonderful job for us. They did our deck, porch,sidewalk and retaining walls. Micah was very particular and went the extra mile. We are very pleased and recommend their company for all your power washing needs.

House Washing - St. Louis, MO
I couldnt be happier with the results from All Clean power washing my house. They were very professional, great communication, great work ethic, and the attention to detail was amazing. I would highly recommend their house washing service to anyone that's looking for quality work.

House Washing - St. Louis, MO
The crew did a great job power washing our house. They were professional and thorough and we would use their house washing service again. It was great dealing with a family owned business.

House Washing - St. Louis, MO
Harold was very nice and professional. He did an excellent job at house washing. The siding of our house was in desperate need of cleaning. When he was done it looked like a brand new house. Was very quick and detailed. Would definitely use this company again.

House Washing - Manchester, MO
Micah and Harold were awesome as was their work. My house looks great and my deck looks new. Their professionalism and friendliness was appreciated. I would recommend AllClean to anyone who needs house washing service. Thanks guys for a job well done!

House Washing - Pacific, MO
We loved absolutely everything about their service! Not only were they able to appease a person with OCD, but they took such good care of all my landscaping and harmed nothing! First time we have ever had no damage! AND OUR HOME LOOKS SPECTACULAR! Super clean and everyone was so helpful, thorough, and professional. Terrific house washing service! Thank you so much!

House Washing - Festus, MO
Communication was excellent from the moment I called to schedule the work. The technician, Harold, was great to work with. The final results simply speak for themselves. I will definitely be referring their house washing service to all of my friends and family to AllClean. Great job!
There's No Easier Way To Get Exterior Cleaning Than Our Simple 3 Step Process
Step #1
1. Request A Quote
Don't wait around for a quote from the other guys! Our dedicated team of professionals will provide you with an accurate estimate within 24 hours or less. Request a quote conveniently right here on our website!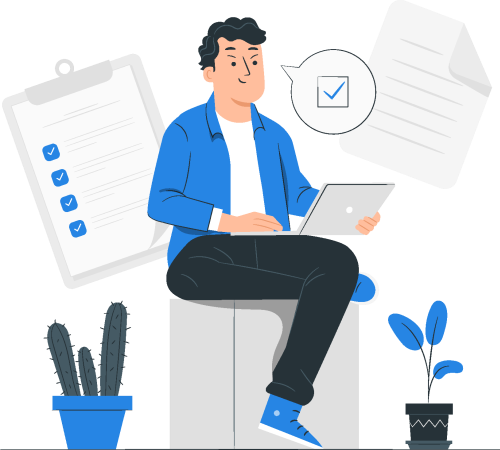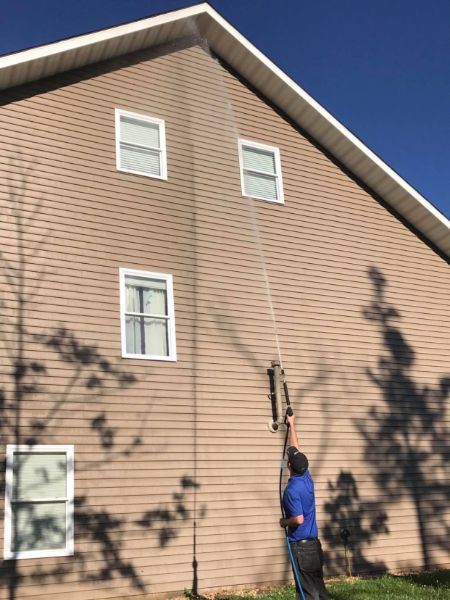 At The End Of Day
Here's What You Can Count On
Ready to restore your property?